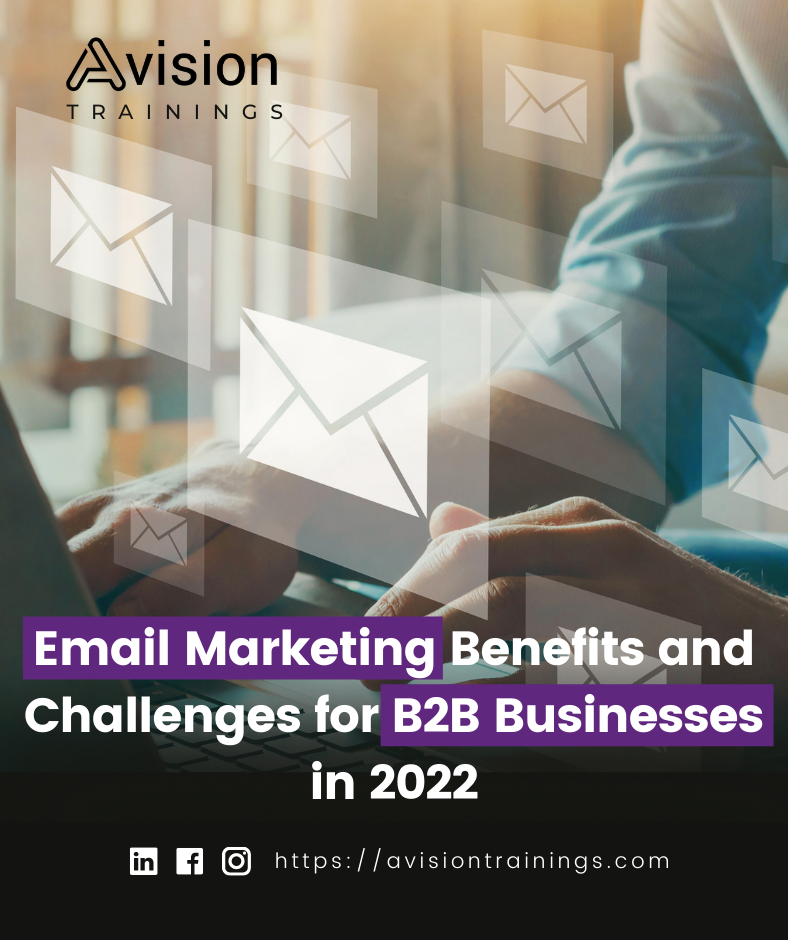 Email Marketing Benefits and Challenges for B2B Businesses in 2022
Email marketing has been generating results since the start of digital marketing, but that does not mean marketers should not keep it fresh by updating it on a regular basis.
When it comes to email marketing, 2022 will present some new problems for marketers, similar to content marketing and video marketing.
In 2022, we have identified major benefits and challenges in email marketing that you should be aware of.
Email Marketing Benefits
Here is everything you need to know.
Create trustworthiness
Why does an email land in the spam folder? Because emails with an odd subject line or those from an unfamiliar sender sparks suspiciousness! Customers often delete these emails because they just do not feel right.
For some clients, an emoji is enough to make them smile and click. The same topic line may inspire others to hunt for the unsubscribe link. To suit the needs of your target audience, you must tailor your content.
Knowing your audience wants and needs can help ensure that your email is read rather than sent into the spam folder.
If you develop an email list that allows permission and has a checkbox for users to opt-in to your mailing list, customers will know which emails they are subscribing to and how often they will get emails from your company.
High return on investment
Email marketing has a median ROI of 122 percent, according to a recent report four times higher than any other digital marketing method. You can improve this number by using tactics like using double opt-in A/B testing and maintaining a proper schedule.
You can also list your business for free on an online business listing site to get better ROI with email marketing.
Make stuff that is unique to you
No one wants to read an email that sounds like it was sent to a bunch of people, thus personalization is the most important feature of email marketing.
You can section your clients into different listicles based on their likes and deliver them highly targeted content using email marketing.
Email is the ideal channel for delivering those personal-feeling communications, from designing the appropriate subject lines to photos that resonate with your customer and meaningful material that benefits your audience.
Different segments of your target audience should be targeted
By harnessing data about your email subscribers, email marketing helps you to build focused campaigns.
If you are a newcomer in the world of email marketing, creating tailored content might be frightening and difficult. Personalizing your material, on the other hand, might be as simple as including a subscriber first name in your email.
According to research, using a subscriber first name in the subject line can increase email openings by up to 26%.
As your email list grows and you get more experience with email marketing, you can section your audience by age, gender, income level, or length of time they have been customers.
Mobile optimization
If you have not already done so, now is the time to make sure your emails are mobile-friendly. Your emails must work properly on mobile devices, and you should use responsive design to ensure that they adapt to whatever device your recipients are using.
The email design is also crucial since you will want to keep it clutter-free so that mobile users do not have to scroll endlessly to get the content they are looking for.
Increase your sales
When you utilize email marketing to foster your business, you provide customers the choice to buy right away from their phones or laptop.
Small company email marketing may help you sell to prospects, increase referrals, upsell to current customers, and even re-engage customers who have not bought from you in a long time. PPCexpo is the best PPC optimization tool that makes your metrics and data more accessible and simpler to utilize.
The more relevant and focused your email content is, the more probable it is that the reader will respond.
The more targeted and relevant your emails are, the more likely the reader will respond.
Customer relationships that are stronger
Marketing requires exhibiting value to clients and explaining how they may progress with your business. If someone joins your email list, you have the choice of providing valuable, relevant material.
In every email you send to your customers, you should avoid trying to sell them your products or services. In your emails, you should add value. Customers will look forward to hearing from you every week if you can demonstrate the value you bring them.
It does not necessarily have to be a sale or an offer; it could simply be the knowledge you think they will find useful.
Email Marketing Challenges
The year 2022 will continue to highlight the ever-increasing desire for security, privacy, entertainment, and innovation. Your target audience is very protective about their personal information and rapidly becomes bored.
Its up to you to meet their expectations by incorporating more interactivity into your email marketing campaigns and ensuring that your receivers data is secure.
Keeping up with the latest security updates, collaborating with reputable email service providers, assisting your team in adhering to email safety guidelines, and timely informing your recipients about the latest changes in your data privacy policies will all help you establish your brand reliability and trustworthiness.
Meanwhile, let your imagination run wild by adding more interactive elements to your email templates and providing more entertainment value on social media platforms.
And video marketing will allow you to highlight your companys most appealing aspects and introduce your key benefits in the most presentable way possible.
The Bottom Line
Email marketing is always changing as a result of new technologies and even external variables such as the influence of a pandemic.
If you want to stay ahead of the pack, you will need to keep up with the current email marketing trends and alter your plan accordingly.
Hopefully, this blog post has provided a clear overview of the newest email marketing benefits and challenges for 2022.